Before her creative instincts lead her into the world of fine art & beauty, Susie was an actor, performing in theatre & film in Australia and the USA.​ "My first theatre gig was at the Aspen Repertory Theatre in Colorado. We did a lot of skiing between rehearsals." says Susie.

An actor and professional artist for over 25 years, she opened her first art gallery in the seaside suburb of Clovelly, Sydney in 1996. 

Inspired by the beauty of Nature, Susie's artworks have been featured in many art & design publications including Vogue Living, Belle and Australian Art Collector magazine.

"Nature & beauty are my passionate pursuits. It was my love for them that inspired me to launch my beauty brand. I wanted to bring a deeper experience of beauty to the world and a way of looking at life through the unique, quirky artist's eye."
Since the age of 14, Susie has been committed to a daily skincare routine. "My childhood was filled with the aromas, textures and exquisite bottles of luscious night creams, magical spray mists and evocative fragrances. I loved how my mother's beauty products made her feel beautiful. They made me feel beautiful too." says Susie.
THE ARTIST'S LIFE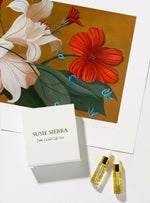 Nature is my subject. I grew up surrounded by the beauty of the natural world. I feel fortunate to be an artist and try to see the world through fresh eyes each day.
A plant-based diet nourishes and supports me. I love animals and believe we are the caretakers of our world. I support Australian wildlife sanctuaries and charities as much as possible.
Beauty begins on the inside, with our feelings and thoughts about ourselves and the world around us. Our thoughts become actions. Acts of kindness are beauty in motion; compassion is beauty of feeling.
My style is creative and individual. I love vintage 60's & 70's. Because of my love for animals I never buy leather or fur.