Welcome to a world dedicated to art, beauty and thoughtful living. Discover pure botanical skincare, inspiring art, and inner beauty contemplations by our founder, Australian artist, Susie Sierra.

In fact, it was an affinity with botanicals that inspired Susie to develop her own luxury range of face oils.
"I love Nature and I've worked with artist oils for over 20 years, so developing these fragrant nourishing plant oils into a luxury face oil range was a natural choice for me," says Susie.

MORNING & EVENING FACE OILS
Studying the changing needs of our skin throughout the day, we found that skin flourishes with a lighter oil formulation in the day, while a richer and more deeply penetrating elixir is best for the evening. Out of this, Sierra Gold Morning & Evening Face Oils were born. They work together to harmonise and balance skin over 24 hours.
The addition of 'Soft Gold' in the form of 24K gold leaf has provided an extra dimension, as an anti-inflammatory solution for sensitive and irritated skin. As well, the inclusion of specific flower fragrances for day and night helps to soothe and support the emotional states we experience at these different times of day.
A wonderful skin calmative, 24K gold is ideal for restoring life and luminosity to skin. No wonder this precious element was so highly prized by the great Queens of Egypt, Cleopatra and Nefertiti, as their secret beauty elixir.
Gold stimulates blood flow to the skin, firming and improving elasticity and slows down collagen depletion, increasing resilience to damaging elements. With a generous infusion of the highest grade 24K gold leaf, Sierra Gold Morning & Evening Face Oils restore skin wealth and add a lustrous glow to the complexion.
Cruelty Free & Vegan - All Susie Sierra face oils are formulated and produced in Sydney, Australia within manufacturing facilities of the highest standards. All are free from animal products, animal by-products and produced by our award-winning skincare formulator.

Sustainable Farming - By sourcing from the highest quality producers, we are investing in best sustainable farming practices. We take into consideration, seasonal weather patterns, soil quality; how and when crops are harvested, stored and transported. These are just some of the factors that go into creating our superior quality oil formulations.
Best Practices Packaging - Our boxes are made with authentic 300gsm French, watercolour paper. This paper has been produced in the same way since the 15th century and today, is recycled from 50% non-toxic paper and cotton rag. We also use non-toxic vegetable dyes for all our packaging.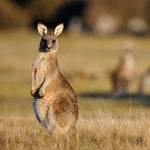 BEAUTY WITH PURPOSE
As we cultivate the earth's resources for our skincare, we are also committed to giving back. Proceeds from 2% of sales go to the wildlife sanctuaries here in Australia that shelter and care for our native animals.

As Susie Sierra Beauty grows, so does our philanthropy. Currently, we donate to The Kangaroo Sanctuary in Alice Springs that provides a safe haven for baby kangaroos from their mother's pouch to adulthood.
SHOP NOW