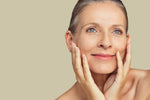 6 Reasons to Choose High Quality Face Oils for Your Skin
Every decade brings its concerns about ageing. It doesn't matter if you're in your 30s, 40s, 50s or beyond. One of the main concerns across most ages is the onset of fine lines and wrinkles.

It can make us unhappy when we see those fine lines appearing in the mirror. We might start thinking of ways to stop or freeze them beyond our usual beauty routine. This can raise the question - is caring for your skin with natural products enough or do you consider more drastic measures? 

Our faces tell our story to the world. Expression lines are testament to our struggles and achievements. Do we really want to erase them? If we freeze our face muscles with a neurotoxin like botox to avoid wrinkles, do we not also freeze our joy? After all, joy is naturally expressed through our laughter and character-filled lines. It's how we communicate lovingly with each other.

It's easy to say, 'love your wrinkles' but not always quite so easy to do. We can however see the passing of time as a way to appreciate ourselves more deeply and begin the inner dialogue towards a more profound experience of beauty. 

High quality natural products can soften age lines and retard the ageing process, slowing it down in a way that supports not just skin health but our whole health. Natural skincare has a warmth and vigour that synthetic & artificial products simply do not have. Here are 6 reasons why natural products are the best choice for both your skin and the planet, no matter your age:
Natural products are alive. They carry the matrix of their unique DNA sequence from nature. They work with, not against your natural skin cycles, bringing you vital life energy.
No nasty chemicals for your body to absorb. Artificial chemicals, whether ingested through the air, food, water or skin are a primary cause of disease and early ageing. 
Natural ingredients offer an abundance of yet-to-be discovered beneficial properties. Science can only see so far and breakthrough discoveries are being made all the time as to the wonder & depth of nature's magical properties and healing methods.
Help our precious planet recover as synthetic ingredients are harmful to the environment. An added benefit of this is a feeling of wellbeing, knowing that you are contributing to a better world.
Avoid the suffering of many animals who are tested on by pharmaceutical companies in their pursuit of lucrative patents through the creation of new artificial compounds and formulas.
Support the lives of farmers around the world who grow the crops from which the natural oils and essences are extracted. This is a natural cycle that has existed since the advent of agriculture, nearly 10,000 years ago.
As a plant-based living advocate, these are the reasons why I chose the highest quality, natural face oils for my brand. I believe in the power of nature. I believe she loves me and supports me on my journey through this amazing life. I wish this and more for you. You are more beautiful and powerful than you know.
Susie x