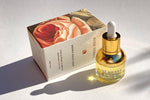 Managing a dry skin problem, especially in cold weather can be a real challenge. I recall a winter after my 50th birthday when I felt my skin begin to change. It was becoming dry by the afternoon and I'd never experienced that before.

I responded by changing moisturisers several times but that taught skin feeling continued to surface each day about 3pm regardless.

It wasn't until a trip to Paris in 2015 that I finally stumbled upon a solution to my dry skin problem. Staying at a small hotel in the 18th Arrondissement, I was up early and on the hunt for a fresh vegan croissant (they do exist!). The Concierge directed me down a narrow lane and I followed the smell of Gitanes and rich dark coffee to arrive at Cafe Antoine.

In Paris, if a cafe is good it's also popular so I had to wait for my pastry and coffee. It was a cold morning and my lips were turning an unfashionable shade of light blue. I noticed a tiny boutique across the street and the lick of a warm fire inside. I scurried over.

In the window, a petite woman with a guillotine sharp blonde bob and white lab coat, sat at a table covered in brightly coloured glass containers. The fragrances emanating from this myriad of bottles were intoxicating and captivated all my senses.
Madame Lazar was a skincare expert with qualifications in Cosmetology, Dermatology and French Perfumery. I told her about my dry skin problem and after close analysis, she immediately concocted of blend of 12 pure natural oils for me to try.

Now face oils were not part of my beauty regime at the time. I don't like heavy lotions on my skin as they can clog pores and don't allow the skin to breathe efficiently. The only facial oils I'd tried up to that point were like heavy salad dressings - not recommended!

Madame Lazar's unique formula was so light and refined, like nothing I had experienced before and the fragrance was deeply enchanting. I could smell wildflowers, earthy bark, cinnamon and even a hint of truffles!

Sweeping 2 small drops of her formula across my face, I felt a rich warmth envelope me. The drops of oil all but disappeared instantly into my skin. A light sheen and healthy glow was all that was left after applying her secret remedy.
My skin drank in this magical elixir like a fine wine and I felt an immediate softening. Not only did her formula deeply nourish my skin but the fragrance had a powerful effect on my emotions, inspiring calm & sensuality. 

Over the next few days, my skin went through a remarkable transformation. The penetrating effect of the oils softened expression lines and some small rough patches disappeared completely. Even a tiny scar on my forehead vanished after only a few days. My skin stayed dewy and gleaming all day long.

Since this time, Madame Lazar has taught me so much about skincare practices, including the power of using natural ingredients and the art of refining formulations. She has been an inspiration and guiding light, helping me create my own formulas for curing dry skin issues.

The addition of 24K gold to my face oils has provided an extra dimension, addressing anti-inflammatory solutions for sensitive and irritated skin.

If you have never tried face oils or concerned they might be too oily for your skin type, then I strongly suggest you try Sierra Gold Morning & Evening oils. Their lightness and depth will surprise you and the fragrances are designed to enhance emotional states, soothing and calming.

Below are some of the botanical oils we harvest for our face oil formulations. Sourced sustainably through responsible farming technology, we choose superior quality oils to bring you exceptional beauty solutions.
1. Nymphaea caerulea (Blue Lotus) flower extract
This sacred oil helps repair proteins in the skin's structure, restoring strength and elasticity while you sleep. The Blue Lotus has been revered for thousands of years as a symbol of spiritual awakening. It's luxurious and sensuous fragrance supports deep, restful sleep. 
2. Hyacinthus orientalis (Hyacinth) flower extract
The properties of this delicate flowering plant help relax the tiny muscles in the face, smoothing and softening. As a natural antidepressant, its aroma restores emotional balance and will uplift and soothe your emotions.
3. Plumeria alba (Frangipani) flower extract
Valued for its anti-inflammatory and antioxidant properties, the scent of the Frangipani is light and joy-filled, making it the perfect ingredient for our Morning oil.
4. Camellia oleifera (Camellia) seed oil *
Camellia oil has outstanding moisture retaining properties and is one of the most rapidly absorbed plant oils. It penetrates into the deepest layers of the skin, leaving it smooth and supple. It contains vitamins, A, B, E and minerals, P, Zn, Ca, Fe, Mn, and Mg.
5. Sclerocarya birrea (Marula) seed oil
The Marula oil is the new "miracle oil" and is very high in anti-oxidants. It's natural stability creates a protective coating on the skin. In Africa, to offer a person the seed of the Marula tree is a mark of true friendship.
6. Terminalia ferdinanda (Kakadu plum) seed oil *
The traditional healing medicine for the indigenous Australian people for thousands of years, this oil is the world's highest known fruit source of Vitamin C. It can improve the skin's visual appearance and reduces irritation for dry skin.
7. Crambe abyssinica (Abyssinian) seed oil
The Abyssinica oil comes from the seed of a mustard plant native to the Mediterranean. This oil is easily absorbed into the epidermal tissue where it works to smooth wrinkled and dry skin.
8. Hippophae rhamnoides (Seabuckthorn) seed oil
This marvellous oil has copious amounts of Phytosterol, Vitamin E, Beta-Carotene, Anti-Oxidants, and Carotenoid which helps to substantiate its success as a skin repairing and conditioning oil.
9. Rubus idaeus (Raspberry) seed oil *
A super antioxidant, Red Raspberry seeds contain very high levels of Omega 3 and 6 plus natural vitamin E. This oil has a natural SPF between 28 and 50. It also helps to repair skin after sun damage.
10. Adansonia digitata (Baobab) seed oil
Baobab oil is obtained from the seeds of the African Adansonia tree. The oil is viscous, with a rich, silky feel. It is an excellent moisturiser and prevents the skin from free radical damage.

11. Limnanthes alba (Meadowfoam) seed oil
Native to British Columbia, northern California and Oregon, this oil is cold pressed from the tiny seeds of Limnanthes Alba producing an oil with superb skin softening properties. It locks in natural moisture to help prevent dryness and protect the skin.
12. CI77480 (24K Gold Leaf)
Pure gold dissolves onto the skin's surface for a lustrous glow. Tiny particles seep in to protect against fine lines and discolouration. Renowned as an anti-inflammatory, gold stimulates blood flow to tissues and reinvigorates tired skin. Japanese Geishas have used gold for centuries as part of their beauty ritual for a glowing complexion.

Limonene, Linalool, Geraniol, Citral. (naturally occurring in essential oils). *Denotes organic