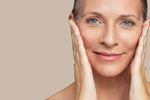 When I was 14, my mother took me to the Estée Lauder counter in David Jones Department Store. She had read that in Europe, women introduced their daughters to a skincare routine at that age. She thought this was a splendid idea and so bought me my first cleanser, toner & moisturiser.
For my mother, beauty was a glorious escape from the mundanities of life and it became her passion. She was devoted to luscious creams and lengthy nighttime beauty regimes. My dad loved it because it made her happy. As a child, I would watch as she pressed magical lotions into her skin.
With such an introduction, my relationship with skin and beauty care was launched. I was fascinated by beauty products and all the feelings associated with them. In fact, not a single night has passed without tending faithfully to my own beauty ritual, since that rite of passage at age 14. 
Having a committed beauty routine has taught me a lot of things - responsibility, consistency and the importance of self-care are all valuable lessons. In a fast-paced and sometimes harsh world, we need the personal anchors and practices that nourish and soften us, emotionally as well as physically.
A quality beauty routine celebrates the feminine divine within each of us. This gentle art is soothing to the soul. As we gaze into the mirror, we find intimacy and time for self-reflection. By slowing down, we can let go of our busy day. 
If you beauty routine has lost it's its magic then maybe it's time to renew your ritual with new products and a fresh new regime!  
~ Susie Sierra