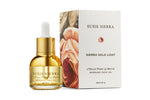 6 Essential Oils for Glowing Skin
Looking to restore health and vitality to tired or mature skin? Susie Sierra's 24 Carat Gold Leaf serums promote healthy, glowing skin by repairing proteins in the skin's structure. They soften fine lines and help restore strength & elasticioty to skin. Not only are our facial oils the perfect skin-firming solution, but the ingredients also have a number of healing properties for holistic wellbeing. 
Blue Lotus Oil (Nymphaea Caerulea)
Ever found it hard to wind down before bed? Nymphaea Caerulea just might be your secret weapon. The Blue Lotus flower has been revered for thousands of years as a calmative elixir and was used in sacred practices dating back to Ancient Egyptian civilisation. This enchanting and multi-layered fragrant oil, found in the Susie Sierra Gold Deep Evening Face Oil and applied before bedtime, supports deep and restful sleep. The serum goes to work while you slumber.
Raspberry Seed Oil (Rubus Idaeus)
Spend a lot of time in the sun? This delicious smelling oil, pressed from raspberry seeds, has a subtle hint of the fruit and contains a natural SPF that can help repair skin after sun damage. Whilst you should always make sure you're sunscreen protected when out and about, this powerful oil reduces transepidermal water loss, helping skin retain hydration and moisture (important in combating sun damage).
Kakudu Plum Seed Oil (Terminalia Ferdinanda) 
Looking to even and smooth skin tone? Kakadu Plum has long been used by Indigenous Australian groups for thousands of years as a traditional healing medicine. With a slight citrus and floral-musk note, Kakadu Plums hold over 3000mg of Vitamin C per 100g of fruit. That's a Vitamin C concentration 50% higher than oranges. In skincare products, Vitamin C has a range of benefits from stimulating collagen production for plump and glowy skin to reducing the appearance of hyperpigmentation or scarring through naturally lightening the complexion. The scent of this ancient fruit is ultra soothing.
Frangipani Flower Extract (

Plumeria Alba) 
Naturally joyful, the Frangipani flower is valued for its skin calming and antioxidant properties. It is known to alleviate inflammation and relaxes nerves & muscles. The scent of this fragrant summer flower is light and joy-filled, making it the perfect scent to lift spirits in the morning. 
Marula Seed Oil (Sclerocarya Birrea)
Cracked and dry lips in cold weather? Marula Oil has a fruity, floral scent with a warm, nutty undertone and is deeply hydrating. Rich and moisturising, Marula Oil has taken the beauty scene by storm as a popular product used in hair, skin and nail treatments. This "miracle oil" feels like a dream on the skin - it can also target painful, cracked areas like dry lips and nail cuticle beds. 
Camellia Seed Oil (Camellia Oleifera)
Pressed for time and constantly on the go? Feminine, fresh and floral, Camellia Seed Oil is full of outstanding fatty acids like Omega 3 and 6, essential to preserving that youthful glow. One of the most rapidly absorbed plant oils, Camellia penetrates into the deepest layers of the skin in little to no time and doesn't leave a heavy residue. It nourishes, smooths and absorbs in record time, so you can glow on the go.
Baobab Seed Oil (Adansonia Digitata)
Self-conscious about irritated and red skin? Baobab Seed Oil exudes a seductive scent that is silky smooth to feel that doesn't create a greasy coat on the skin. It has an abundance of beneficial properties, traditionally believed to fasten the healing of wounds, proven to combat stretch marks and is a popular natural treatment for anti-inflammation caused by Psoriasis, Eczema, and Rosacea.
These supercharged ingredients are all found in our luxurious and vegan facial oils - check them out here and begin your natural healing journey!