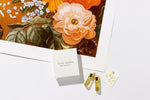 The Benefits of Investing in Luxury Beauty
Ever looked longingly at the beautiful packaging and mindful design of luxury beauty products while reluctantly thinking, "well, maybe next time"? 
It can be easy to overlook our own well-being when we have the responsibilities of work and family each day. However, a little bit of luxury can be an extraordinary investment for the soul and for the skin! Here are 5 reasons why luxury beauty products will always be a better investment for your beauty routine.
Number #1 - Longer lasting 
Investing in a luxury facial serum or oil will keep you reaping the rewards for much longer. Luxury brands develop beautiful products to fall in love with. They offer a richer, deeper kind of beauty experience that comes with longer lasting results. When you invest in luxury beauty, you invest in skin quality and longevity with ingredients that are made to last.
Number #2 - They're made with care
Luxury beauty brands are multi-faceted in their approach. Produced by experts and the top manufacturers in the beauty industry, brands such as Susie Sierra invest time and energy tirelessly perfecting their formulas to make your skincare more than just a routine and instead, an extraordinary and beautifying experience. With scrupulous attention, their products are sampled and refined over and over again, giving them a luxurious depth and human connection that can only be experienced with a luxury brand. 
Number #3 - Commitment to animals and the environment
At Susie Sierra, the philosophy is 'beauty with purpose'. As we cultivate the earth's resources for our skincare, we in turn, contribute to the environment and welfare of native animals in Australia. We are committed to our vegan values. Entirely cruelty-free and 100% natural, our products are tested on humans for humans! 
Number #4 - Better ingredients
When you invest in luxury, you invest in the future of healthy skin. Every single ingredient is selected, sourced and combined with your wellbeing in mind - no unknown chemicals or alcohols here! Your skin will fall in love with these ingredients - just as you'll love Susie Sierra! Made with pure botanicals, including the sacred Blue Lotus Flower, to repair proteins in the skin's structure and 24k Gold Leaf, which is known as an anti-inflammatory, these facial oils reinvigorate tired skin for a glowing complexion. Refreshingly transparent.
Number #5 - You deserve a bit of luxury!
And finally, enjoy the experience! Our face is the most expressive part of our body. It's how we express ourselves to the world. No matter what we do or say our facial skin is on show, so why not enjoy a little bit more attention to it? The deeply sensuous natural fragrance and luxurious feel of our facial serum formulas, will be enough to convert you forever. A beauty routine shouldn't feel like an effort or something you'd rather sacrifice. Start and end your day feeling extraordinary - because you are!